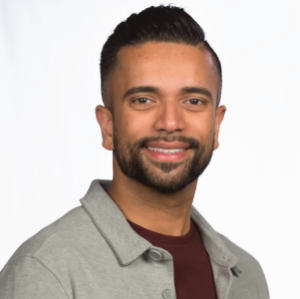 Libin Abraham
Lead Pastor
972-306-4477

On staff at Bent Tree since 2021
Serves the Body of Christ through preaching, leading, and shepherding the church family and community.
Libin serves a critical role in Bent Tree's leadership (as staff and elder) and serves as leader and mentor to Bent Tree staff. Libin is the resident expert on Bent Tree's vision, values, and distinctives and passionately promotes their full implementation and application.
About Libin
Libin was born in South India and spent most of his childhood in Chattanooga, TN. His parents also serve in pastoral ministry and provided a godly example of ministry and family. Ten years ago, he moved to Houston to begin seminary. He and his wife Stacey have been married for seven years and have two wonderful children Avery and Liam.
His vision for Bent Tree is to see God's Kingdom ushered in through Bent Tree into places of darkness, brokenness, and despair; that Bent Tree would be a church known for loving one another, being fueled by the Holy Spirit, committed to God's Word above all, and unstoppable for the cause of Christ.