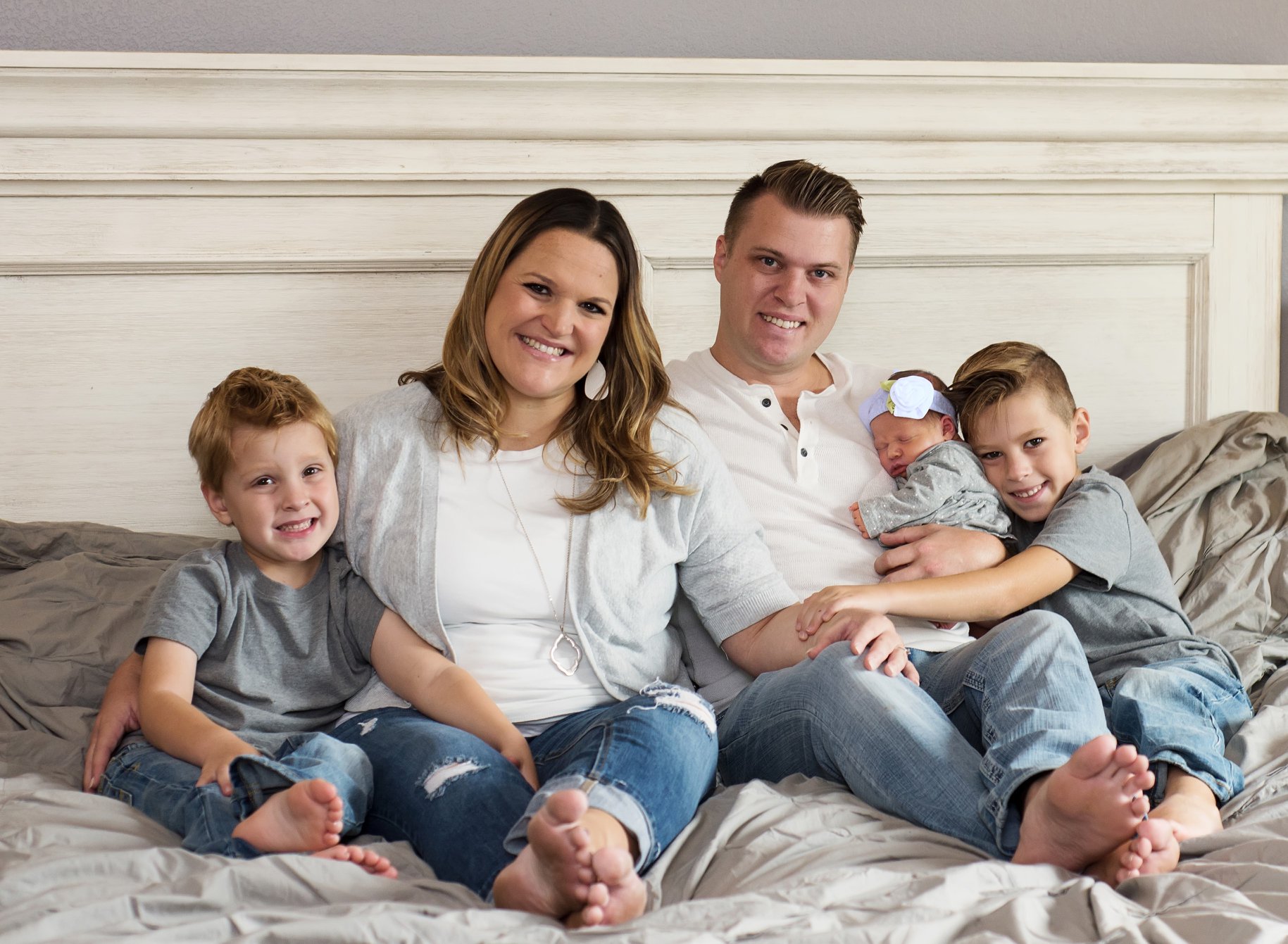 Our Story: Life is Better Together
At the Frisco campus, we've invited families to tell stories about God's work in their lives. Amber Beck shared with us this story, about the importance of community in the face of hardship. Bryce and Amber are members of Bent Tree Frisco. Amber serves in the Kids Ministry, Bryce serves in the Worship and Arts Ministry, and their family is actively involved in a LifeGroup.
---
By Amber Beck
Nothing prepares you to hear a doctor tell you that your days-old baby could "easily give up" trying to breathe on her own — but there we were at Children's Hospital, hearing our doctor say those words while our daughter fought to breathe, battling RSV, pneumonia, and staph infection.
August 6, 2018, Bryce and I welcomed our sweet baby girl Cambry to the world. Her two big brothers were so excited to have a sister.
At just twelve days old, Cambry became very ill. She was admitted to Children's Plano for RSV and low oxygen, placed on CPAP to provide her more oxygen and help her breathing. After being in the hospital for six days, she took a turn for the worse and we were transferred to the NICU at Children's Hospital in Dallas. There they discovered pneumonia and staph infection, which needed to be treated with antibiotics.
We were told she would not have survived without receiving the antibiotics when she did. Her breathing had become more labored and our doctor spoke those unbelievable words we were not prepared to hear.
We were struggling big time — total emotional wrecks. We were experiencing something we had never experienced before. We were mentally, physically, and emotionally exhausted.
Cambry, very slowly, began to make progress over the next days and weeks. She spent a total of 20 days in the hospital before she was strong enough to be discharged, and we are so grateful to say she is doing really well now. I stayed with her those 20 days and never went home during that time. Being apart from each other for that length of time was hard on everybody, especially our boys.
We are extremely blessed to say that we did not walk this road alone. Jesus was walking alongside us and carrying us most of the way, but we also had our LifeGroup. They picked us up and held us tight during this time. They prayed for us, checked in on us daily, visited us, fed us, gave us care packages, and brought me coffee. On top of all that, they put us up in a hotel across the street from the hospital so I wouldn't have to sleep in a rocking chair in Cambry's NICU room. Access to a comfy bed and warm shower at the end of a long day at the hospital was a tremendous blessing, for which we are forever grateful.
One sweet friend from our LifeGroup took time out of her busy schedule to come and sit with me and play cards one evening. I had no idea how much I needed the "fun and laughter" of those few hours, but simple acts of kindness like that truly ministered to my heart and picked me up.
Then, there was the birthday party. Kason, our middle son, turned five while we were in the hospital. As parents, our hearts broke to think of not being with him, celebrating him on his birthday. Our LifeGroup didn't let that happen. They completely planned a birthday party in downtown Dallas close to the hospital so we could be with him. His party was complete with a huge superhero cake, balloons, food, and gifts to celebrate our little guy on his special day. On a school night, they all drove up with their littles to have this awesome party for Kason! That is amazing love. That is serving others at its finest.
These are just a few examples of the many ways our LifeGroup locked arms around us and carried us through these heart wrenching 20 days. I don't know how we would've made it through an experience like that without our LifeGroup. Our circle. They poured into us love, hope, and encouragement in tangible ways allowing us to experience Christ in those dark days. That is what we feel a LifeGroup should be all about: Sacrificially serving each other no matter what the cost, no matter what day it is.
Other members of Bent Tree Frisco, outside of our LifeGroup, cared for us. So many people prayed, gave food and coffee... we are grateful. Some of the ladies from church came together and cleaned our house the day before we came back home! It was such an unexpected gift that lifted us up. Thank you, church, for supporting us and loving us well.
Christ used our experience over the last few months to teach us. First, we learned Christ uses people as his hands and feet to show himself in the dark days. We could not have made it through those 20 days without our circle. Next, we learned life is meant to be done together. We are created to live life alongside friends, picking each other up when we fall, serving and giving to others in their times of need. God intends for us to lock arms around our circle and be strong for them when they are weak. Life is better together. We can't wait to give back to others what we have been given.
We would love to help you connect to the kind of circle the Becks describe in their story. For more information about Groups at Bent Tree Frisco, visit https://benttree.org/frisco-groups/