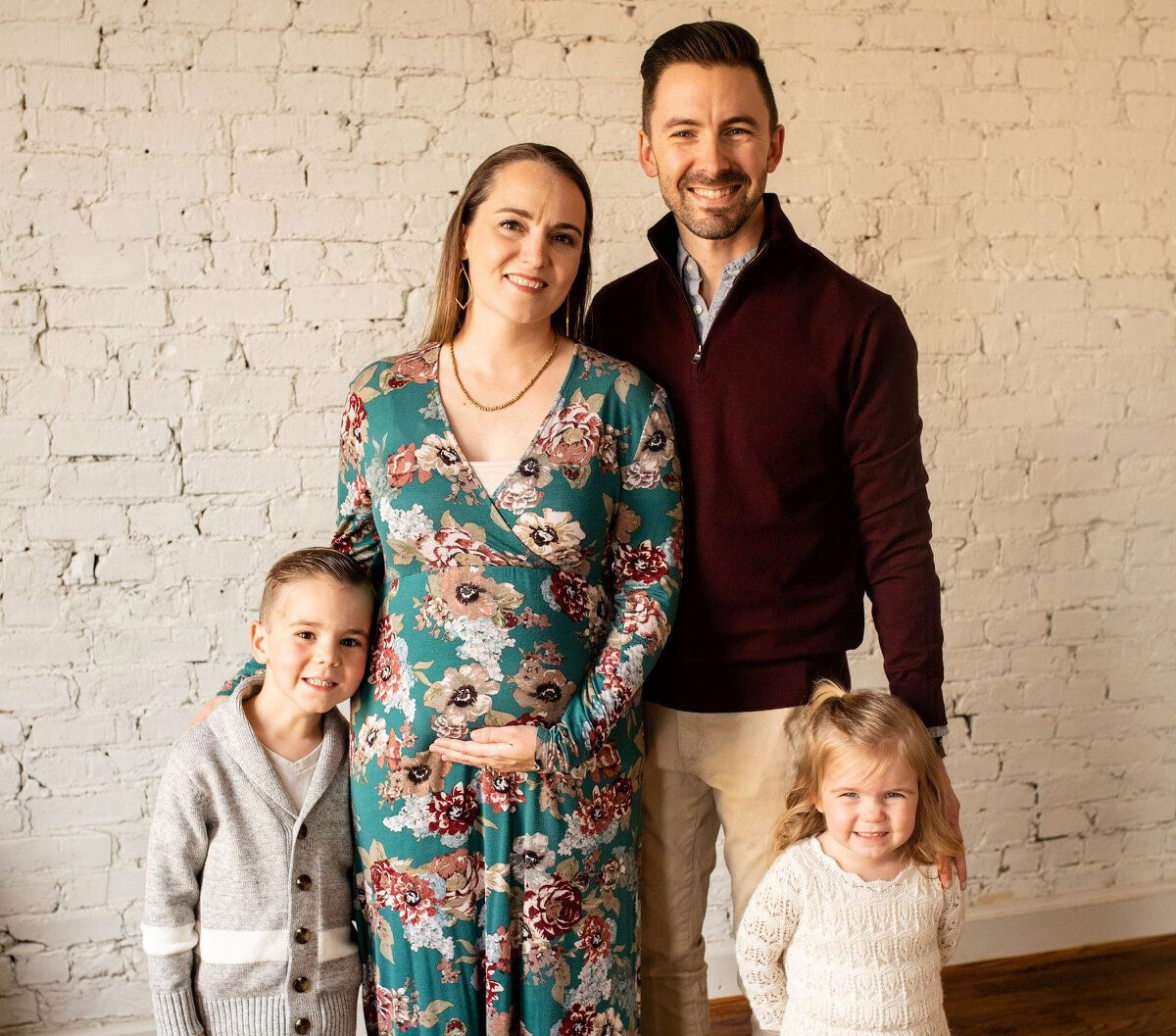 Our Story: Breaking the Silence
At the Frisco campus, we've invited families to tell stories about God's work in their lives. Matt and Erin are members of Bent Tree Frisco. Both serve in the Marriage Ministry, and their family is actively involved in a LifeGroup.
---
By Matt and Erin Baxter
A silent struggle nearly ended our marriage before it started. We survived, but we did so alone, and the struggle of isolation was just as dangerous as the silence. We exhausted our own efforts to fix the problem before we finally turned to Jesus for help.
Our story begins back in 2001. We met through friends in the Bent Tree youth group and it was "like" at first sight. We were about thirteen or fourteen at the time and our relationship grew from there. The next few years were awkward but fun. We didn't hug for a year, we didn't hold hands for two years, and we didn't kiss for three years. We weren't allowed to be boyfriend or girlfriend, so we went from "friends" to engaged at nineteen years of age and married at twenty. We often look back and wonder why our parents were so supportive of us marrying young, but we know that God had a plan!
Shortly after our engagement, we knew we wanted to be as prepared for marriage as possible. We came from different backgrounds, and we knew what we did and did not want our marriage to look like. Because of this, we signed up for the premarital class at Bent Tree. During our time in the class, we were able to hear speakers talk on topics such as finances, communication styles, marital roles, and even sex. The most valuable part of the class, however, was being paired with a mentor couple.
Our mentor couple poured into us and talked through each topic as we learned about it. They shared from their own experience and taught us what they learned along their marriage journey. After meeting with our mentor couple for a few weeks, Jesus led them to share a very vulnerable part of their story with us. The story was one of unfaithfulness, a secret kept for years, and the hurt that could have ended their marriage. The story was difficult, but it was also filled with the overwhelming grace and forgiveness—the kind that only Jesus could supply.
Jesus used the story to capture our hearts. Through their story, the Spirit spoke to both of us and pointed out areas of our lives that we were hiding from one another. Needless to say, we had a very quiet drive back that evening. We both knew there were things that needed to be shared and that neither of us wanted to carry secrets into our marriage. We pulled up to Matt's apartment and after more prolonged silence, he revealed that he had been struggling with a pornography addiction —a battle he had been fighting silently for years and never felt that he could share. While there was shock in the initial conversation, both of us were overwhelmed by the love, acceptance, and forgiveness with which Jesus filled our hearts. Though we stepped into marriage with openness and honesty between us, we ended up fighting against the bondage of addiction with our own plan and in our own strength. We purchased accountability software, and Erin took on role of Matt's accountability partner. Despite our best efforts, after the wedding and years into our marriage, the struggle remained.
Throughout the next few years, there were times Matt confessed that the struggle had become too much, and he had fallen again. We would go through a cycle of grief, trying to fix the problem but, ultimately, finding ourselves back in the same place again. One of the hardest of these times was in our sixth and seventh year of marriage. After dealing with a devastating miscarriage, the death of a close loved one, and a tough adjustment to parenting when our firstborn arrived, Matt shared again that he had fallen to temptation. It was, by far, the most difficult time in our marriage. Erin was especially suffering and felt more hopeless than ever before.
In desperation, we decided we could no longer battle against the addiction in isolation. A few years prior to this, we joined a LifeGroup. We took a step of faith, and in trust, we shared our struggle with our group. They responded by walking alongside us through this hard time. The men were able to lend support and accountability to Matt in a way Erin never could, and the entire group wrapped their arms around us in love free of judgement and full of grace. Because of them and through Bent Tree's continued messages of grace and trusting in Jesus rather than ourselves, something finally changed.
Today, we bear one another's burdens through our LifeGroup. We are intentional within our group about sharing our struggles. When we're hurting, we no longer hesitate to speak up and let our friends know about our pain. We trust them with our problems. We honor the trust they place in us by protecting the privacy of what they share with us. We challenge one another when it's obvious we are believing something that isn't true. We now realize we're not meant to live life without the help God provides through our friends. We know addiction to pornography is a struggle that will never fully release its grip. While we remain on our guard, we do so with the help of Jesus. It is a constant reminder of our need for Jesus and a testament to his sufficient and never-ending grace.
By God's grace, Matt has experienced great freedom for years now, and our marriage has experienced a drastic change for the better. We have never had a bad marriage, but the weight of what we were carrying kept us from fully experiencing the life and marriage Jesus had for us. We have been married for almost twelve years and together for nearly eighteen years. Jesus led us back into the premarital ministry, this time as leaders. Erin now heads up the ministry and the bi-yearly events that take place every February and August. Matt is right by her side, and together we have been able to mentor multiple couples and share our story just as our mentors once did for us.
We believe the courage Jesus gave our marriage mentors to share their story saved our relationship and kept us from walking into a silence-filled and deceitful marriage. We hope that sharing our own testimony will break the silence as well as the burden sin can bring to the couples we mentor and maybe to some of you who are reading our story. We pray that you will be able to walk in the freedom Jesus so generously led us toward, with his help and in the community for which he created us.
---
We want to help you break the silence, connecting you to community so you can experience the love of Christ as Matt and Erin did-free of judgement and full of grace. To learn more about becoming a marriage mentor or to connect to a couple who can mentor you, visit benttree.org/marriage
For more information about Groups at Bent Tree Frisco, visit benttree.org/frisco-groups