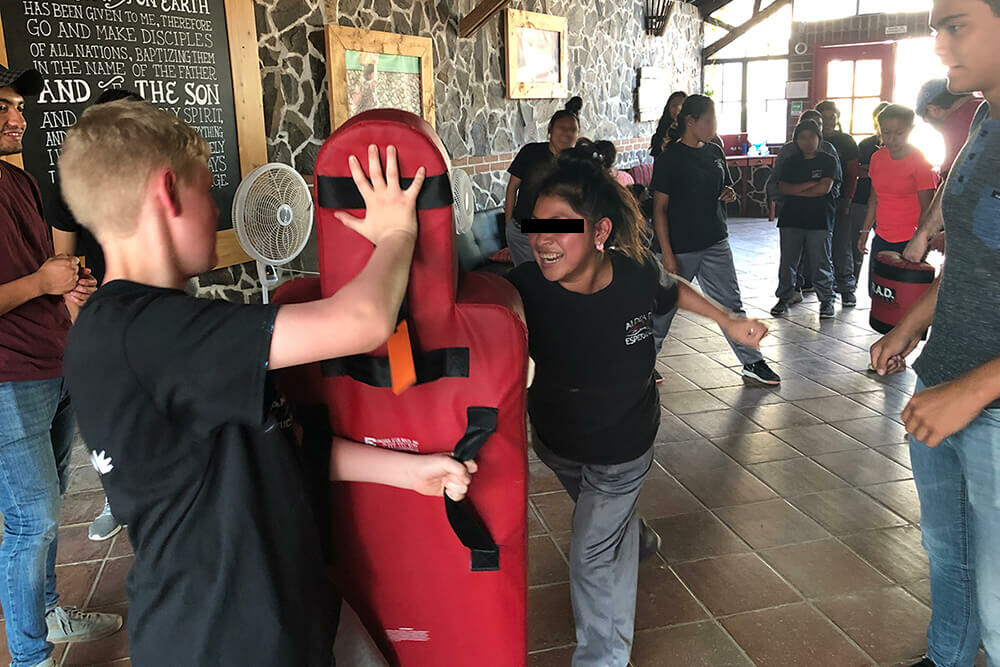 I'm in awe of how amazing our God is in using mission journeys to take us out of our routine, cultural norms, and just stretch us in so many ways. On our journey to Guatemala, we got the privilege of partnering with Village of Hope, an organization that ministers to orphans no other agency will take: those who are HIV positive, are pregnant due to abuse, trafficking victims, and the disabled. Even with all the tragedy involved in that description, it's such a joyful place, full of hope and healing in our Lord Jesus Christ.
We knew going in we were going to teach self-defense, and were so thankful to have Shawn, a police officer, who has over a decade of teaching and training in this area. Just two weeks before we left, a local police department donated over $4,000 in equipment to help make this happen and allow Village of Hope to continue the training after we left. It's amazing how the Lord provides!
It was complicated to adjust from training police officers to training those who are already victims of abuse. However, Shawn did an amazing job teaching the staff and our younger team members to assist him, and helped build trust quickly with the girls.
The girls were pretty hesitant on day one. We spent much of our time telling them how valuable they are in God's eyes and our eyes, and have every right to protect themselves. We cried, they cried, and then we taught them six ways to create a painful distraction and run as fast as they can to get help.
By day two they were having a blast! The last day we padded them up and let them really give it all they had, picking their favorite skill and executing it. They were quite effective!
It was surreal to watch these young teens, ages 12-15, go change clothes after self-defense training and come back down for VBS, with their own children. I have such respect for these young moms and this ministry as they teach them how to be moms, while still being children themselves.
It's remarkable to know that God uses who we already are to provide for the needs of his children all over the world. We're so thankful to truly partner with Village of Hope Guatemala.