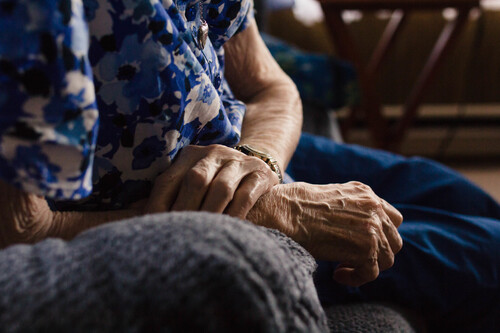 Jesus pursued her 91 years
Hey, friends. Just wanted to share a Name in the Wall story that started 13 years ago. I heard it this weekend and asked this Frisco family to write it down so I could share with you. The story of heart transformation never gets old. ~John
My grandmother has been my "name in the wall" the past 13 years, since we started coming to Bent Tree. (My grandpa was too, but he passed away a few years ago. He said he had accepted Christ before he passed, but there was never much evidence of that so we hope it's true.)
My parents became Christians in college and joined Campus Crusade staff. Over the last 45 years my grandma has heard the gospel many times, but her response has always been, "We don't discuss religion."
The last time I brought it up straight out was when my grandpa was diagnosed with bone cancer. I flew to Iowa to visit them and I tried to talk to them about Jesus. I was quickly shut down. But I have kept praying over the years, and my siblings have talked to them about Jesus some. The seeds were planted and we've been watering them for years.
My last trip to see her was in October. I was so taken by her loneliness and sadness without her husband. She is just ready to die — and at 91 years old, who knows how soon that will be. I felt such an urgency in her needing to know Jesus now, and I've shed many tears over the alternative. My plan was to go visit next summer and have Greg share the gospel with her because she would probably be too nice to cut him off.
Well, Jesus had a different plan and continued pushing the urgency of this with me. So through the encouragement of my BSF Bible study group, I wrote her a letter two weeks ago (just days prior to putting her name in the wall again this year). I clearly laid out the gospel and gave her three verses. I said the rest was between her and the Lord. I asked our family, LifeGroup, and Bible study to pray for her heart to be prepared for the letter and for it to not fall on deaf ears.
When I did my Bible study the next day, two of the verses I sent her were verses I had to look up for my lesson. So I had such peace and comfort from the Lord that he was drawing her in. Finally! After all these years I really felt hope that Jesus could get through to her.
It was a very real possibility that she would never mention it to me and possibility that she would be very upset with me and not talk to me again. I decided the risk of hell was worth that chance.
I was absolutely shocked to get a phone message from her this past Thursday saying, "I got your wonderful letter and I have just cried and cried over it. I have been wanting so badly to hear these things. How did you know?" She said she was busy the rest of that day and would call me the next day.
I again asked people to pray specifically for our phone call on Friday.
We finally got to speak and she said she just could not believe my letter. She has been trying to get a pastor to come talk to her about these questions she had. She even tried looking one up in the phone book, but never heard back. (They live in a small town and the church they went to for awhile was not preaching Biblical truth.) She wanted to know how I knew those were her questions. I told her it was all the Lord. He showed me what to write and gave me those verses.
I asked if she had prayed to receive Christ and she said with such joy in her voice, "Oh yes! Yes I did!"
I told her it is never too late to come to Jesus. He welcomes every one. And it doesn't matter what we have or haven't done in our life — His love and grace are not based on us at all, but free gifts he gives to us. She said, "Isn't that great news?!" I could hear her smiling and I have never heard such joy in her voice. It was a little shocking!
She said she dug out a Bible from one of her boxes and was going to read it. We didn't even know she owned one. So my mom (her daughter) is going to get her a large print Bible.
A Christian friend of my parents lives in her town and she thought it would be so nice if he came to visit her. (Another thing that surprised us!) So he is going to follow up with her this week.
If my 91-year-old grandmother can pray to receive Christ, then I really know no one is too far gone. He has been pursuing her for 91 years. Our family has planted and watered those seeds for at least 45 years. And I'm so, so grateful that the Lord never gave up on her.