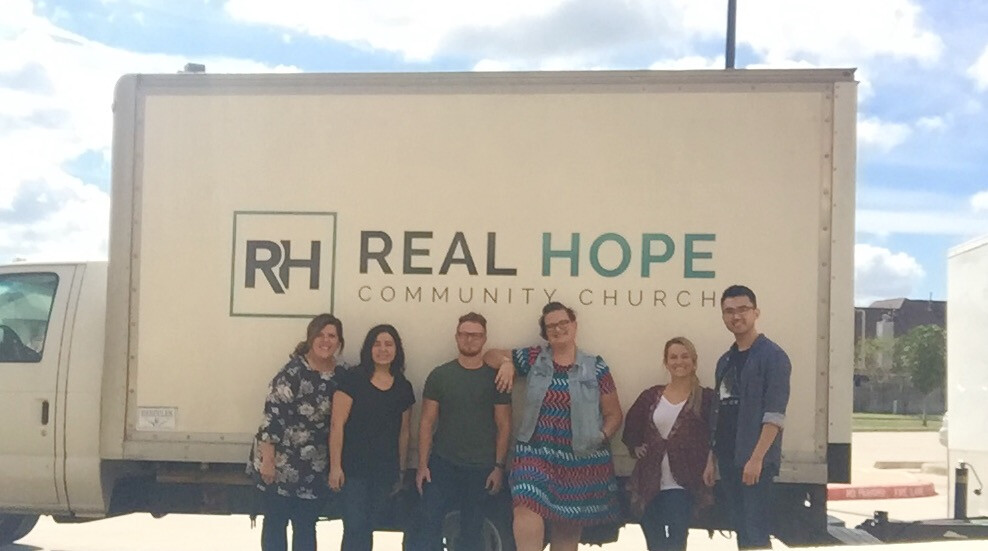 Mr. and Mrs. Smith* never expected their house to be sitting in three feet of floodwater. And neither did their insurance company. The Smith's home sat on land that had never flooded in recorded history — the risk was so low that it was financially wiser not to purchase flood insurance.

Then Hurricane Harvey came ashore, dumping huge amounts of rainfall on Houston communities, and the Smith's neighborhood was right in the path of the controlled release of a dam. It all happened so fast they had no time to move their belongings, and their home was filled with several feet of water. They lost everything.
Suddenly the Smiths were faced with the reality that they would need tens of thousands of dollars to make their home livable again. All their flooring was wrecked and the lower four feet of drywall throughout the house was ruined.
With Mr. Smith retired, Mrs. Smith's embroidery business destroyed, and no flood insurance, they did not have that kind of money. They did receive some government assistance, but it covered only supplies, not labor.
A few weeks ago, a team of young adults from Bent Tree and I spent some time with Mr. and Mrs. Smith. We partnered with Real Hope, one of our Bent Tree Network churches, working under the supervision of contractors that Real Hope had hired, to install insulation and drywall.
It was a short weekend trip, but so impactful. I'd love to share with you three things that stood out to me from our trip.
Our team witnessed the deep suffering this community was experiencing. Every single home in the Smith's neighborhood was unlivable, and very few had purchased flood insurance. We spoke with one woman, a mom with two children, who told us her husband just couldn't take it anymore, so he just abandoned them. A sign on one garage summed up this collective feeling — it simply said "HELP." The only way these people were going to recover was through the good graces and kindness of others.
Our trip was a wonderful opportunity to show the love and Life of Jesus. Another group had previously been at the Smith's home to demolish the ruined drywall. The team members had done their job, but without much thought to the Smith's feelings. Mr. Smith was understandably nervous when we showed up, but he relaxed when he saw the gentleness and conscientiousness our young adults displayed. Mrs. Smith is a native of an Asian country where only the government responds to disasters. She was blown away by how believers in Jesus were helping them. I think half the goal that weekend was just loving on the Smiths.
Toward the end of our weekend, we had some time to walk around and meet some of their neighbors. We were able to share with them that Real Hope was available to offer aid. There was an openness in people's hearts, and we watched them show such kindness and helpfulness to one another. I could see how God was already using this tragedy to start genuine conversations in that neighborhood.
Finally, I learned that this kind of trip is totally doable for so many of us. Alex Clem, Bent Tree's missions coordinator, is working with Real Hope to set up relief trips for groups and individuals from Bent Tree throughout this next year. The rebuilding work is going to be a long-term process and the need is overwhelming.
The length of time for any trip is flexible, Alex says, whether it's a weekend or a week, and Real Hope arranges lodging and meals. For our group, there was no need to carve out a lot of time on the calendar, raise funds, or make extensive arrangements to be gone. It was simple to schedule, quick, and practically free.
When we first walked into Mr. and Mrs. Smith's home, we could see straight through from one end of the house to the other. When we were finished, the Smiths had walls again, and they had also experienced Jesus' love for them in a very practical way. It was a joy to serve them, and I am praying that someday soon, they will say "yes" to him.
If the Holy Spirit is speaking to your heart about helping with Harvey relief work — whether individually, with some friends, or with your LifeGroup — contact Alex ( ) to start the process.
We humans do a lot of preparing for the unpredictable, but our preparations can only go so far. The best answer to all our questions about what might happen in life is to hope in Christ. As his church, we get to be the agent of that hope — to Mr. and Mrs. Smith, to their neighbors, and to the world.
*not their real names