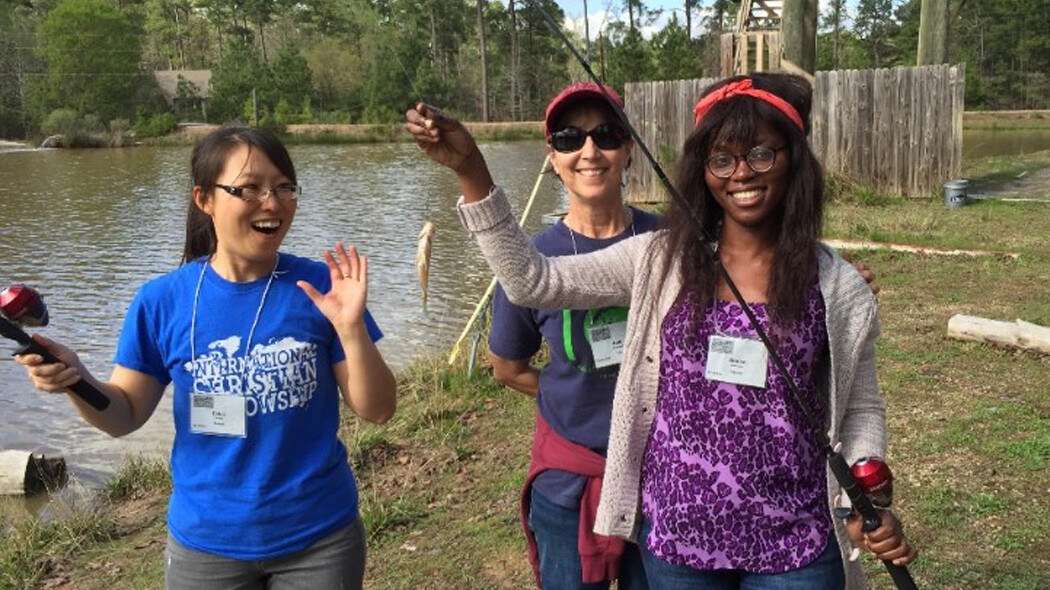 By Kent and Judy Marshall, with International Students, Inc.
After many years, we kind of have an idea why we gravitate toward the fishing activities at spring break camps. We know a little bit about rigging a hook, split shot, bobber and worm, among other things. But mostly, we really enjoy being with the students, sharing these special times together. Bisoye, from Nigeria, told us about how she used to fish with her grandmother in Nigeria, and her experience at Pine Cove recently brought back a lot of memories. Steve, a student from Taiwan, had no sooner tossed his bait out when the biggest bass of the day latched on and Steve was able to reel it in. He was so thrilled. It turns out that his dad owns a large commercial fishing fleet in Taiwan, yet Steve had never caught a fish until that day just outside of Tyler.
God provided an awesome time with the students over spring break, including great weather after a short morning shower on Saturday. There were many fun and unique things to share as well as meaningful conversations with several students about what it means to know Christ and to grow in him.
During our chats we were reminded how the fourteen years in Aggieland have flown by. We are not getting any younger, but we guess hanging around college students helps us feel younger than our years! And we are still motivated, thankful, and ready for what God wants to do in 2016, knowing that we are not alone in this task.
How can you pray for Kent and Judy:
Praise God for Penny, one of our students from China who took part in believer's baptism on Easter Sunday.
Pray for salvation for two students whom we feel are close to accepting Christ.
Pray for grace, strength and favor for us as we host and spend time with several former students, staff and friends in the upcoming weeks.
International Students, Inc. exists to share Christ's love with international students and to equip them for effective service in cooperation with the local church and others.