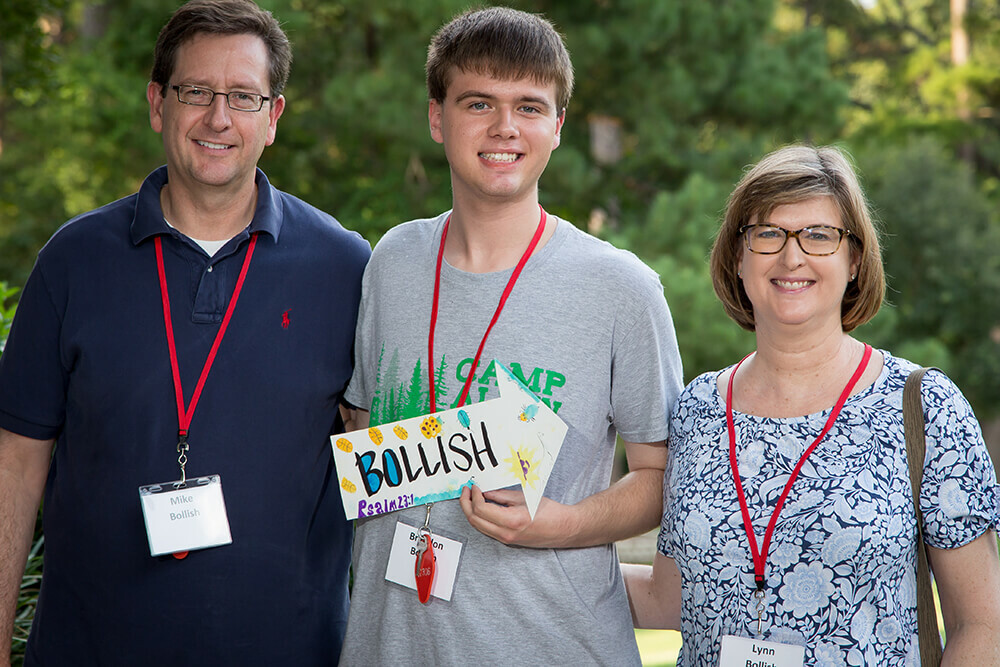 Finding Joy at Joni and Friends
Guest author Lynn Bollish and her family have been long-time members of Bent Tree and the Special Needs Ministry. What a joy it has been to see how God is working in their lives through their son! Lynn shares the story of how Joni and Friends provided a much-needed retreat in the time before Bent Tree's Special Needs Ministry, and continues to do so today.
---
Years ago, when my son was first diagnosed with autism around age 2, it felt like his life—and mine—were over. On Sundays at church, I struggled to hold back tears while hearing the worship songs. I looked around the room at other families and their children, and it seemed like there was no one else who could in any way understand what we were going through. I had never in my life felt so unseen. I longed for teaching that addressed the many questions I had for God, and that provided biblical application for our specific situation.
At Joni and Friends Family Retreats, I found all of these things and more: I found joy again. I learned that there is joy in life with a disability. Joy is everywhere at Family Retreat. Before we ever went to Family Retreat, or "Camp" as the families call it, I thought it might be sad seeing so many people affected by a disability gathered in one place. But this couldn't be further from the truth. People accurately describe Camp as "a slice of heaven on earth." For the four days of Camp, the attendees who live with a disability are the stars of the show, something they do not regularly experience in the world. They are celebrated, cheered on for everything they do, surrounded by people who also live with a disability, and showered with the love of Christ in action.
We parents experience this love, too. We see our kids accepted and celebrated in ways that we do not normally get to see. We get to hear biblical teaching from a pastor who also has a family member affected by disability. We get to spend time with other parents who walk in our shoes while our kids take part in camp-style activities paired one-on-one with a volunteer caregiver. We see our kids do things we once never dreamed they would: they dance, perform in a talent show, ride a horse, play on a slip-n-slide, climb up a fire truck ladder, participate in a water balloon fight and shaving cream war—many times for the first time ever. It's also a safe place for our kids to grow their independence. I will never forget the first time that we allowed our son to walk alone during dinner from the dining hall back to our room, and back. He was so proud of himself. And we saw a different child than ever before.
Several years after the beginning of our journey with autism, Bent Tree started a new bi-monthly support group for families with special needs. We are so grateful to belong to a church that now provides this support opportunity and a thriving Special Needs Ministry. At Camp, we are able to connect further with these families from our support group in ways that are simply not possible in the hour-and-a-half time span of our regular meetings. It is very hard for us to unwind from our harried lives before and after we are at the support group meetings. At Camp, we actually have time to relax and talk without interruption for extended time periods, which allows us to get to know each other on a much deeper level. We have also made life-long friends with even more families affected by disability outside of our church from across the state, and our kids have, too.
Because of Joni and Friends I have learned and have seen that God is with us through it all, and that he uses my son's disability to grow his kingdom. When I worry about our son's future, I can remind myself that Jesus walks with us now and will walk with our son then. Even though our lives are still hard through the year, our week at Camp allows us to renew our spirits and refresh our souls. I know my son feels the same; he looks forward to attending Camp all year long. When we arrive and see the welcome sign and the volunteers cheering, we are reminded again that we are indeed seen and loved.