City Transformation: Building Cultural Bridges
JH Isreal: Ariel National Center for Leadership Development
On May 15, 2016, two classrooms of youth, one Jewish and one Arab, attended a day-long program together at the Ariel National Center for Leadership Development. Below are excerpts from a letter that our newly appointed Director of ANCLD, Eran Glazer, received from one of the school principals regarding that day:
Dear Sir,
On Sunday, May 15, 2016, we attended the network-oriented activity at the leadership center in Ariel, along with another class from Baka al-Gharbiya, both composed of students majoring in baking.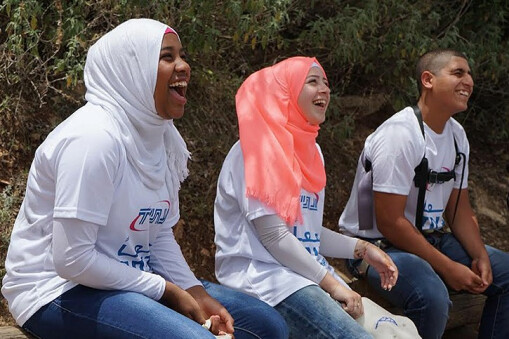 Despite many apprehensions, we were surprised to see that the combination was extremely successful and felt quite natural, as if they had already met many times before.
During the activity, the staff was very excited by the cooperation between the students from my school and the other students. They sang songs to each other, supported one another, clapped their hands to boost morale, and gave endless encouragement. It was especially touching to see how the students encouraged and supported two weak, socially-challenged members of the class. They were cheered on to get on the installation, climb up high, and carry out the task.
One of the students said, "For the first time, I felt loved. They gave me the energy to carry on and do the assignment." Another girl exhibited surprisingly marvelous survival skills and said, "I never knew I had those strengths." She pulled everyone along after her and spurred them on to succeed.
According to the homeroom teacher, "I was proud of my students... They are all strong and incredible, are good friends, and have high abilities. I think this activity is a must for every grade, to build class spirit and togetherness, and show them that they are capable of facing their fears and anything that happens in their lives."
I would like to personally thank the staff of the Ariel Center for their warm attitude, close accompaniment, and response to every question that arose during this important process.
Yours sincerely,
Karen Bavli, Atid-Motzkin School Principal
JH Israel and ANCLD are at the forefront of building bridges like these between Arab and Jewish youth. The letter above illustrates the power of cultivating understanding, cooperation, and respect for one another in the next generations of these two diverse cultures.
---
There is growing momentum at the JH Israel Ariel National Center for Leadership Development, as more than 33,000 Israelis have now had the ANCLD experience. Now a new door has been opened as Arab and Jewish orphans and youth at risk are having a powerful, spiritually transforming experience together. Their goal is to have 1,000 students attending ANCLD monthly by the end of 2016. Bent Tree Faith Promise has supported JH Israel since 2013 with financial support and a Building There project.