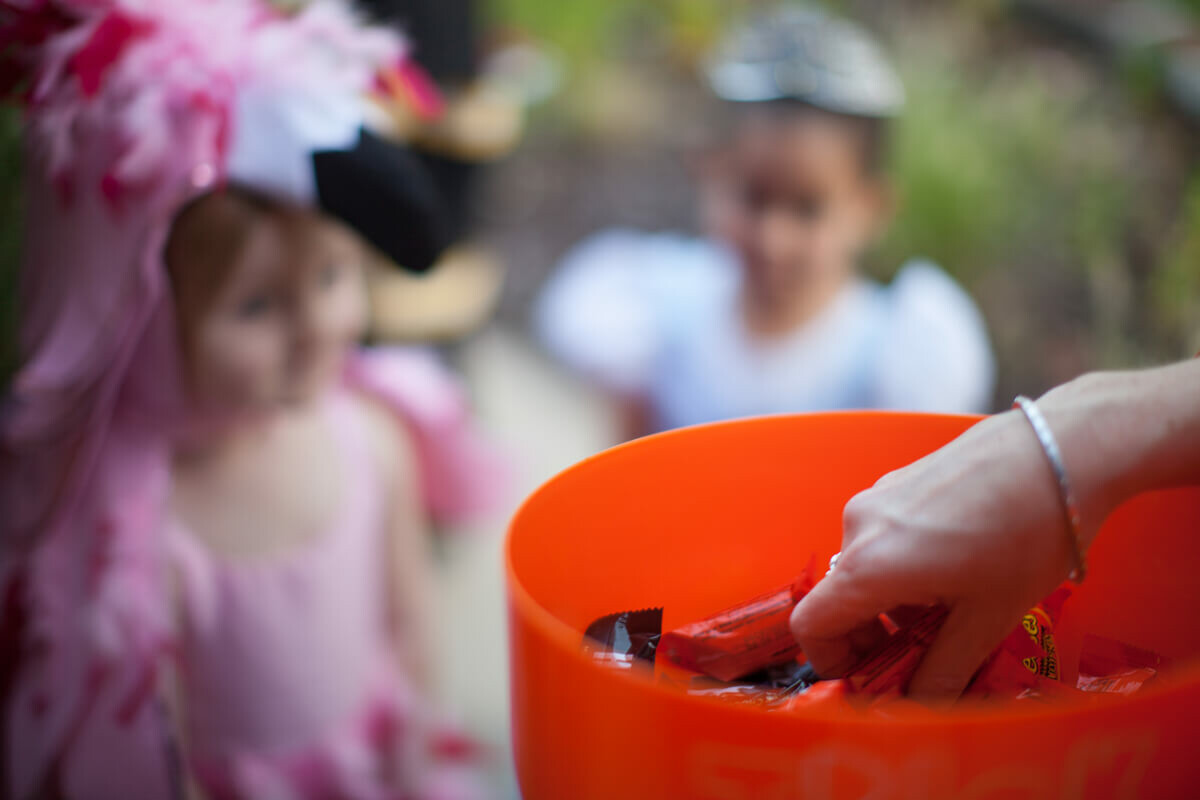 A Christian Perspective on Halloween
Halloween is coming! Does that elicit excitement, or fill you with apprehension? As a holiday rife with images of devils and witches, it has a reputation for delving into some dark things, and in church circles for generating fear. But it doesn't have to stay that way.
I grew up in a family that was uncomfortable with the holiday. Fortunately, we didn't live in a neighborhood with many children, so it wasn't strange that we kept the porch light off and our parents made us whisper and army-crawl through the pitch-black house. (Okay, it wasn't that extreme.) The only safe option, I was told, was a harvest festival put on by a church.
The church we attended growing up would go all-out for their October carnival. There were tons of games and prizes, and only family-friendly costumes were allowed. So, we would give the stink eye to the community members who came in scary masks, and frantically try to find our siblings who, just like every other kid there, were dressed as a Bible character, complete with striped bedsheets and fake beards.
Redefining Halloween
As much as I make fun of the experience, I have fond memories of these carnivals, and they can be great family-friendly options! But as a new mom, I didn't know how to approach the holiday. My husband's family didn't have the same fears my family did, and they also had a very close-knit neighborhood overflowing with kids. Halloween for them was a community event. So, when my husband wanted to start a tradition of trick or treating, I was nervous.
I decided to give it a try, and I'm really glad I did. Our little girl was still pretty young, so we didn't go house-to-house but sat outside and handed out candy. After the lil' squirt was tucked in, my husband started a game for the older kids in the neighborhood: He pulled out some nerf guns and we set up targets inside cardboard boxes with round LED lights in the bottom to back-light them. The kids lined up on our driveway and took turns trying to shoot the "ghosts," getting candy as a reward (or consolation prize).
Share Life this Halloween
I'll never forget that Halloween. It completely changed my perspective on the holiday. I'd spent so much time and energy worrying about it that I'd missed an amazing opportunity to connect with my community.
If you're like me and have felt uncomfortable with the holiday, consider shifting your focus. Instead of dwelling on the darker imagery associated with Halloween, be intentional with the people in your community and look for ways to share Life with them. God has placed you in your neighborhood for a reason, and he's ready to use you right where you are. It doesn't have to be fancy. The goal is that your neighbors know you're there, and that you care for them. Here's some ideas:
Sit on your porch to hand out candy so you can interact with your neighbors.
Play Halloween music to create some ambiance.
Have a free apple cider booth.
Set up a spooky photo booth for people to take great pictures of their Halloween costumes, and provide costume props for the adults that didn't dress up but still want in on the fun.
Fill up the kiddie pool with water and apples and offer trick-or-treaters the chance to bob for apples for extra candy. (This also makes a fun photo op!)
Have lots of decorations? Set up a Halloween-themed obstacle course in your yard for kids to go through—treats at the end!
Play a family-friendly Halloween movie on a bed sheet with a projector in your driveway.
Bonus: Make one of these ideas a joint-effort with one of your neighbors!
Halloween may be the easiest night to connect with your community. As believers, we are carriers of Christ's light, and the "light shines in the darkness, and the darkness has not overcome it." (John 1:5) So enjoy Halloween this year, and "live as children of light." (Ephesians 5:8b)