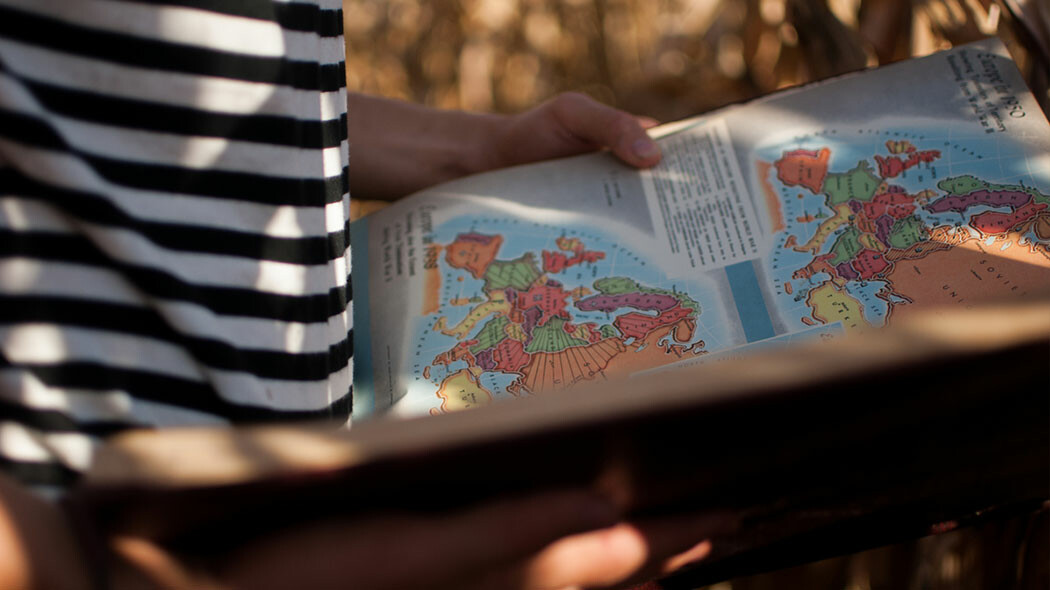 The Treasure of Indwelling Life
The map was crudely drawn with dashes that meandered across the page. They connected drawings of tall oak trees to rock outcroppings and river beds. A line of dashes followed a railroad track which bent around a hill. And there, on the other side of the hill, a large X announced the spot marked as treasure.
I was nine years old and with my boyhood friends. We used to play away the summer doldrums hunting for pirate treasure. The backwoods of Kentucky and our creative little minds combined to build anticipation of the search.
A Different Kind of Treasure Hunt
Almost 40 years later, I still experience a similar rush. My map has changed, but my curiosity for the search remains. And instead of hunting for pirate loot, I'm searching for something else…
The Apostle Paul describes it in 2 Corinthians 4:6-7:
"For God, who said, 'Let light shine out of darkness,'made his light shine in our hearts to give us the light of the knowledge of God's glory displayed in the face of Christ.But we have this treasure in jars of clay to show that this all-surpassing power is from God and not from us."
As believers in Jesus, we now have the indwelling Life of Christ within us. We are now empowered for his grace to be lived out through us every moment of our days. What a treasure!
So, interestingly, on this new map, the search (or dashes) start at the X. We start with the treasure; we're no longer searching for it. His light shining in our hearts is the treasure we now have in order to show God's power and not our own.
Heart Transformation
A quick summary of key Scripture verses shows what transformation has taken place in the believers' heart: We were saved by grace through faith (Eph. 2:8), we are new creations (2 Cor. 5:17), and we have been crucified with Christ, no longer live, but Christ lives in us (Gal. 2:20).
This is heart transformation! However, this heart transformation does not create automatic changes in behavior. It creates an awareness to behaviors that need change which require personal responsibility for taking action.
To this point, let me clarify: Doing spiritual things behaviorally does not equate to legalism. What makes a behavior legalistic is the motivation for which we do it. For example, reading your Bible daily is a behavioral response. It's only legalistic if you do it in order to remain in God's favor or to get him to love you more for your holy endeavor. It's healthy if you do it out of your love for him and out of your desire to experience that love. We do spiritual things in order to fully engage and enjoy the treasure he has given us.
So if heart transformation is our treasure, what are we searching for on this new map?
Grace Lived Out
The dashes on the map are taking us on a search to understand and resolve how our inward spiritual reality influences outward behavioral evidence of the abundant Life of Christ. This is what we're seeking, and the search we're on is one of great importance! The search now becomes for understanding then applying how our heart transformation impacts our behavior. Those are the two concepts all believers must come to terms with in order to reconcile how we are fully forgiven, completely in union with Christ, yet still struggling with shackles of a sin-saturated physical existence.
If heart transformation is our treasure, then our behaviors are the dashes. Grace lived out is the outward evidence to an inward reality. As we walk this journey, we find that these two concepts — grace lived out and the indwelling Life of Christ — are unified. Some may think they're in tension, but rather than trying to act right or be holy — which leads to legalistic repetition and guilt over failure — consider it more of a relationship to nurture that leads to growth and maturity.
In the following picture, you see a cooperative relationship between grace lived out and the indwelling Life of Christ. Behavior and heart… modification and transformation… habits and identity… patterns and beliefs…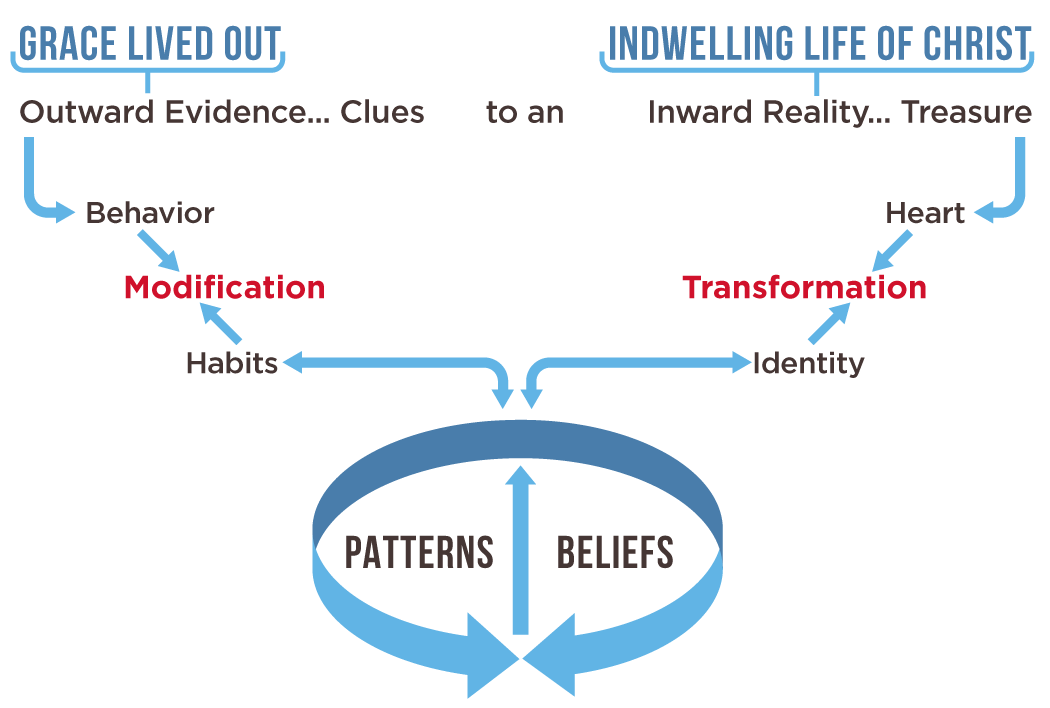 Behavioral patterns that reinforce a belief result in reinforced patterns. This is true whether the belief is false or true. It is a dynamic cyclical process that requires us to begin at the X.
To do this, you must take the time to evaluate your beliefs:
Are they true or false?
Are they informed by God's Word?
Which of your behavioral patterns reflect God-honoring ones and which do not?
As you think through what you believe, and evaluate your behavior, remember the treasure is already in your possession. Enjoy the journey that beckons with great anticipation toward the depths of God's riches.