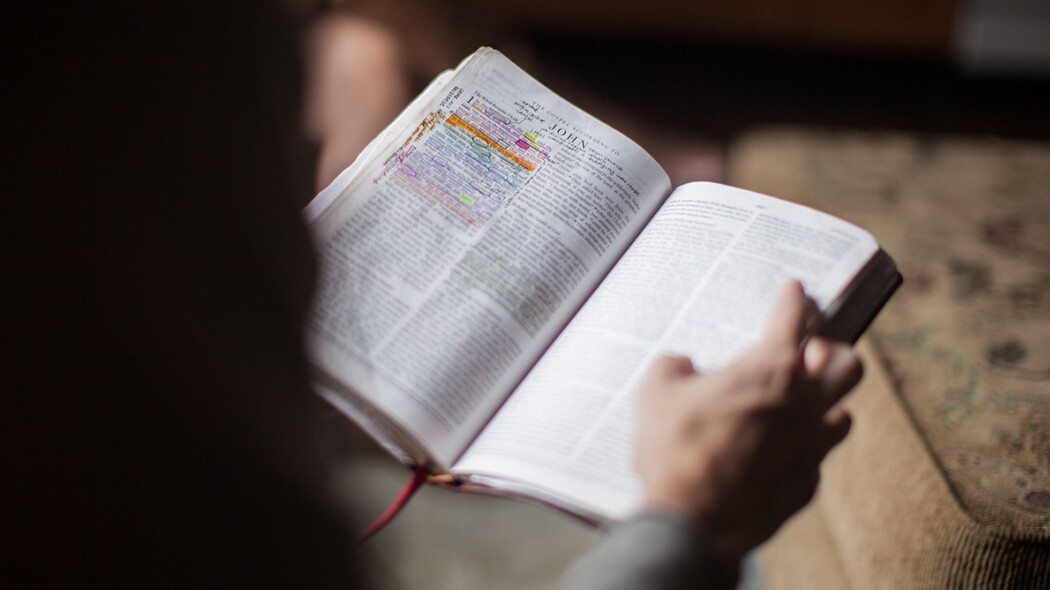 The Key to Living the Christian Life
Do you ever find yourself asking, "How exactly do I live this Christian life?" You hear so much about it, but when you try to put it all together, it starts to get confusing. So, how do we do it?
Let's begin with a little exercise. I want you to read the below paragraph and think about whether or not it makes sense. Here it goes…
"A newspaper is better than a magazine. A sea shore is a better place than the street. At first, it's better to run than to walk. You may have to try several times. It takes some skill, but it's easy to learn. Once successful, complications are minimal. Even young children can enjoy it. Birds seldom get too close. Rain, however, soaks in very fast. Too many people doing the same thing can cause problems. One needs lot of room. If there are no complications, it can be very peaceful. A rock will serve as an anchor. If things break loose from it, however, you will not get a second chance."
So, did that make sense to you? No? Well, the reason you don't know what that paragraph is talking about is because you don't know the subject. It's talking about one specific thing, and if you read the paragraph a second time knowing the subject, I guarantee it will make sense to you. Go back and read it again, but read it with a kite in mind.
Does it make sense now? It's amazing the difference the subject can make, isn't it?
When we attempt to make sense of the Christian life without knowing the subject, it's a little messy, isn't it? It's like reading through that paragraph without knowing it's about a kite.
So, what is the subject — or the key — of the Christian life? We find it in Galatians 2:20: "For I have been crucified with Christ, and I no longer live, but Christ lives in me. The life I now live in the body, I live by faith in the Son of God who loved me and gave himself for me."
This is the "kite passage" of Christian living. In it, we can see the summary of the Christian life.
There are three simple statements in this text:
I've died.
I'm indwelt.
I'm depending.
I've Died

"I've been crucified with Christ, and I no longer live." Paul starts with the concept of being crucified with Christ, which he describes in great detail in Romans 6:1-14. We have died because we were crucified with Christ — we died with him. Our old nature has passed, and we are new people of the cross. Jesus didn't just die for us at the cross, but he took us with him and we died there, too.
I'm Indwelt

"But Christ lives in me." Our old self was crucified with Christ, and we have a new life — and it's his life dwelling in us. When we say yes to Jesus, the biblical truth is that, by his Spirit, Christ came to dwell in us. God himself lives inside each one of us. Let that sink in.
I'm Depending

"The life I now live in the body I live by faith in the Son of God." While we're still on the earth, we're still living with our physical body, but we are to live in it by trusting in Jesus. We're to live in surrender and in dependency on him for every single nook and cranny of life. In every room, every closet, and every part of our world, we are to trust him. It's full relinquishment of everything. It's living by faith.
Now, some of you might be thinking, Why would I do that? It sounds too risky. Maybe it does sound kind of scary to relinquish all that to someone else, but if we look back at Galatians 2:20, the "why" is clear: "The life I now live in the body I live by faith in the Son of God who loved me and gave himself for me."
We do it because Christ loves us perfectly. In offering himself on the cross, he was saying, "You can trust me. Look how much I love you. Why wouldn't you want to trust me with everything?"
The Key

Living the Christian life is claiming these three simple statements as true of each of us: We've died, we're indwelt, and we're depending. It's trusting the one who lives within us with every area of life.
Steven Olford put it this way in his book "Not I, But Christ":
"So many Christians today try to live the Christian life apart from Christ; but such human endeavors are doomed to failure. Jesus made that clear when he declared with categorical finality: 'Without me you can do nothing' (John 15:5). Tragically, Christians still attempt to copy the Christ of history in their own strength. The fact is, only one person ever lived the Christ life; it was Jesus, and he did so to the pleasure and glory of his Father. Having fleshed out the perfect life in undeviating obedience to the will of God, 'he became the author of eternal salvation to all who obey him' (Heb. 5:9). After effecting that eternal salvation through the blood of his cross and the power of his resurrection, he ascended to heaven to impart his life, through the Holy Spirit, to all who believe his gospel and receive his full salvation. So the Christian life is nothing less than 'the outliving of the indwelling Christ' on the principle of dependent faith."
This, friends, is the key of living the Christian life. Christ actually lives in us, and to live the Christian life, we put our trust in him. And this isn't just theology — it's the truth that transforms and empowers.
We've died, we're indwelt, and we're depending. Claim this truth and step into the incredible adventure of Life in Christ.
---
Taken from the message "The Normal Christian Life" from Pete's series "Dance Lessons."