OUR IMPACT AREAS
Bent Tree Missions is bringing the light of Christ to the darkest places of the world. (Isaiah 60:1-3; John 8:12). Our heart is to move with Christ to restore hope, value, and dignity here and around the world. Locally and globally, we are sending financial resources and people out to:
REACH THE UNREACHED by partnering with agencies, ministries and missionaries who are effectively targeting the unreached around the world.
STRENGTHEN THE CHURCH by supporting indigenous churches and leaders through pastoral training, equipping in evangelism and discipleship, and other requested needs.
RESPOND TO CRISIS by partnering with ministries, agencies and churches to respond to the unique needs resulting from the many natural and man-made crises around the world, while sharing the hope of Christ with hopeless people. This includes our initiatives to alleviate hunger and fight human-trafficking.
ADVOCATE FOR CHILDREN by ensuring vulnerable children are given protection, justice, access to food and health care, education and opportunities to hear about the love of Christ.
EMPOWER WOMEN by partnering with ministries and agencies that bring dignity, value and worth to women while equipping them to live as they truly are; created in God's image.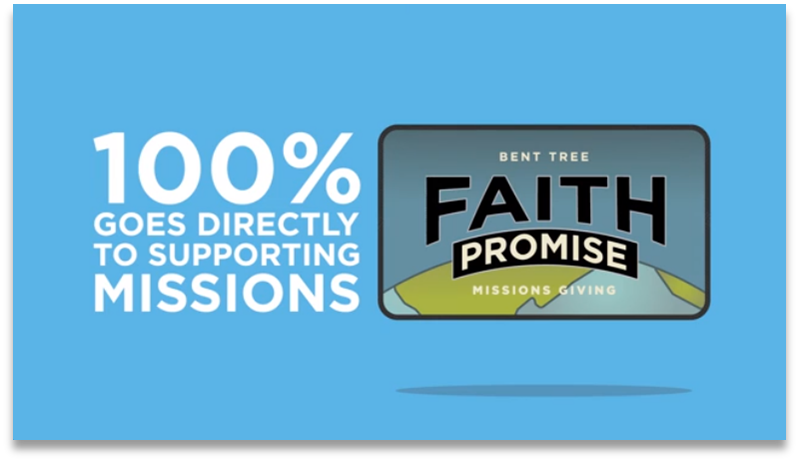 Each of our local and global partners align with one or more of these five strategic impact areas. We are committed to equipping and mobilizing our body to engage with these issues to love and serve our world.
To support Bent Tree Missions financially, you can give through Faith Promise. Your gifts to Faith Promise are donations beyond giving to the general fund and extend Bent Tree's missions initiatives here and around the world.